View Comments
Sunday, February 28, 2010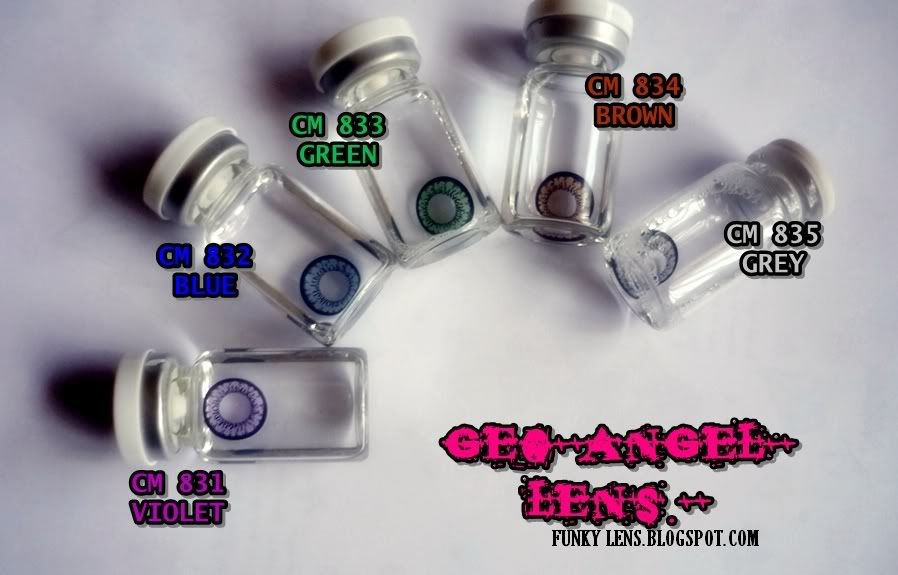 ORIGINAL
GEO LENS.
IMPORTED FROM KOREA. NOT MADE IN CHINA OK?
100% safe!!
6 TO 12 MONTHS DISPOSABLE.
ORIGINAL
GEO LENS.
IMPORT DAN BUATAN DARI KOREA.. BUKAN DIBUAT DI CHINA. KALAU CHINA PUNYA 2USD DOLLAR SEPASANG. CIPLAK PUNYA. KAMI PUNYA SGT BERKUALITI :)
100% SELAMAT!!
TAHAN SELAMA 6-12 MONTHS.
* ALL ARE PRE-ORDER. NEED TO WAIT 3 TO 4 WEEKS..
* ALL ARE RM 40 PER PAIR. EXCEPT FOR THE ANIMATION.
* ANIMATION AND CRAZY LENS RM 60.
EXTRA: WE ALSO SELL COLORLESS CONTACT LENS. THE CLEAR CONTACT LENS PRICE: RM 40. POWER CAN BE DIFFERENT IN ONE PAIR. :)
CAN WEAR UP TO 6 MONTHS!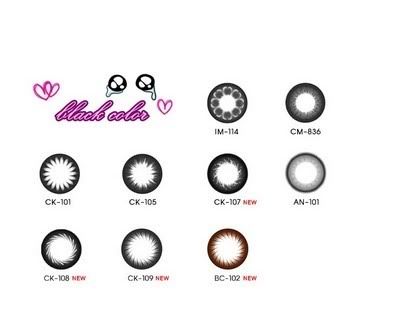 black
DEGREE FROM 0- 1000

fresh
DEGREE FROM 0- 1000

hot pick !! angel color degree from 0-1000

Ts(honey wing) degree from 0-1000
extra information: brown color known as honey wing. grey color known as ash wing.
These lenses are specially designed for Miss Masuwaka Tsubasa, a famous japanese fashion model.

nudy
DEGREE FROM 0- 1000
fashion leader with splendid & characteristic look of eyes.
enjoy mystery of eyes with moon shinning, tearful eye look.
magic color
NO DEGREE
these lenses will present you wonderful, mysterious and attractive eyes which you can be proud of.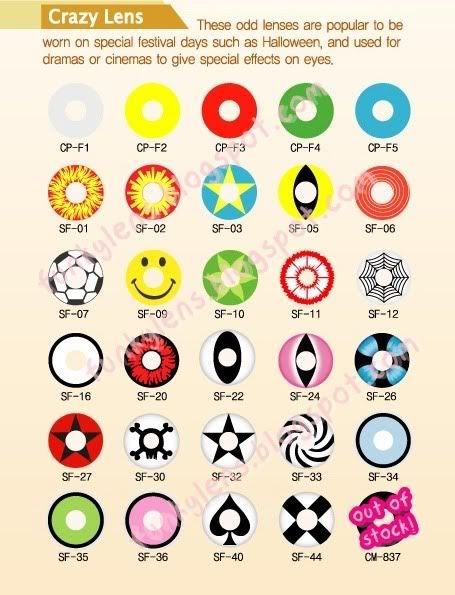 CRAZY LENS / FUNKYLENS
RM 60 PER PAIR
LIMITED! JUST FOR FEBRUARY!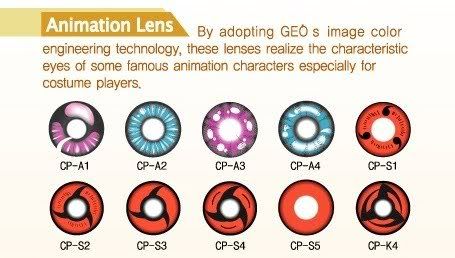 animation- RM60 per pair (ORIGINAL PRICE)
NO DEGREE
CP-S2 NO MORE STOCK ..
---------------------------------------------------------------------------------------------------------------------------------------------------------------
HOW TO ORDER THE POWER/DEGREE?
* CAN BE ORDER DIFFERENT POWER.
* FOR EXAMPLE; LEFT 100 RIGHT 50
* CAN BE ORDER 100 / 50
THE PRICE IS STILL FOR ONE PAIR!
ORDER METHOD!
1. BROWSE THE CATALOG
2. FILL THE FORM
3. THEN EMAIL TO: loly_yda@yahoo.com.my
4. WAIT TO GET A REPLY FROM US
5. THEN DO THE PAYMENT
6. EXAMPLE;
* NAME: LIM MEI MEI
* ADDRESS:NO123, JLN SEMARAK,KL
* EMAIL: loly_yda@yahoo.com.my
* CONTACT NUMBER: 012-3456789
* CM836 (BLACK) DEGREE:0/0 UNIT:2
* CM832 (BLUE) DEGREE:0/0 UNIT:2
SHIPPING INFORMATION!
RM 6 FOR POSTAGE. -WEST MALAYSIA
RM 10 FOR POSTAGE - EAST MALAYSIA(SABAH AND SARAWAK)
EACH POSTAGE CAN HOLD 3 ITEMS
Payment method : CIMB BANK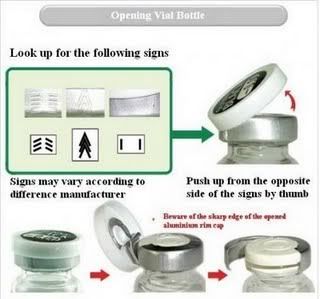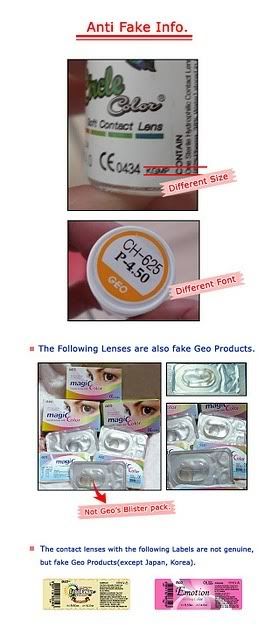 Disclaimer
★ Any discomfort when you wearing the lenses (cause majority doesn't have problem wearing these contacts).
★ Wrong degrees of the lenses (when you provided us wrong degree information for your eyes).
★ Lost money during bank transaction to us.
★ if the lens is not suit with your eyes color, and you wish to change, it is impossible. sorry. as everyone have different color of original eyes.
★ Any lost or damages during delivery is not our responsible
★ buyer have to bear all postage fee
★ Goods sold are not returnable/ exchangeable.
★Goods sold are new and in good condition. We will not held responsible for any loss or damages incurred during posting.
View Comments
Saturday, February 6, 2010